Nuthin
The Deepness that is Nuthinness …
14
Welcome to my mind

(Empty though it may be…)
Nuthin: Well guys, its that time again, we need a couple thousand semi coherent words worth sharing…what'ya got?
Nuthin: **rolls eyes** Sal, you always vote sex
Semper Salax: and you always shut me down, why do you hate me
Nuthin: Come on, we're running a family show here…lets dont bring it down to that level. Does anyone have an idea other than sex?
1
Semper Manic: I like wolf t-shirts
1
1
Semper Salax: Show of hands, who likes sex
1
**all raise hands**
1
1
Semper Salax: See!?! Now tell me why we cant do sex?
Nuthin: Padre, didnt you have some funny stories about our kids you were gonna include in our next blog?
1
Semper Padre: Yeah…no. They seem really funny at the time but when you think about it later, its mostly those "you had to be there" kind of stories.
1
1
Nuthin: Nothing?
Semper Padre: Well there was this one about our nephew…
Nuthin: OK, shoot
Semper Padre: Well, he was getting his diaper changed the other day and he farted. It surprised him and his eyes got real big and he asked " Is that the choo choo?".
Nuthin: Yeah. That was cute…but I dont think anyone cares, other than his parents and maybe you. Lets forget about that one.
Semper Padre: I told ya.
1
Semper Salax: Ya gotta have sex to make nephews…so I vote sex.
1
1
1
Semper Ebrius: So if you have sex with your sister-in-law, would the offspring be nephews and nieces? or sons and daughters?
1
1
Semper Salax: It depends on if she is good looking or not.
1
Nuthin: How does that…nevermind. We are not going to blog about sex, end of discussion. Besides all of our sister-in-laws are currently MARRIED…and to our brothers no less, so lets not even go there.
1
Semper Salax: Not to mention that they are all ugly as hell, how could we have let our brothers pick such awful wives?
Nuthin: We could do a blog on interesting quotes?
1
Semper Fatalis: Please dont make me want to kill you.
1
1
Nuthin: Where is that quote from?
Semper Fatalis: No. I meant it literally.
Nuthin: Oh. Hostility much Fatalis?
Semper Fatalis: Fuck you Nuthin, you suck.
Nuthin: Moving on…
Semper Salax: How about weird sexual fetishes.
1
Nuthin: NO
1
1
Semper Salax: Like that one where they do that thing with feet and toes…
Nuthin: **shudder** The last thing in the world I want is anyones tongue on my toes.
Semper Salax: No, that OTHER thing…with the…
Nuthin: Absofuckinghellno
Semper Salax: What'sa matter Nuthin, you suffering from testicular shrinkage or something? you got no balls to write about sex?
Nuthin: If I am, then you are too you moron.
1
Semper Vogon: How about poetry?
1
1
All: NO
Nuthin: You write perhaps verifiably the worst poetry in the northern hemisphere.
Semper Vogon: I thought everyone liked my poetry?
Nuthin: No one REALLY likes any poetry at all, much less that senseless garbage that you pass off as clever wit
1
Semper Salax: Yeah, your shit dont even rhyme.
1
1
Semper Vogon: Poetry doesnt have to rhyme dumb-ass… I dont know why I even waste my time talking to you Sal.
1
Semper Manic: Woody Woodpecker is red
1
1
Nuthin: We are getting no where fast here people, come on, any good ideas?
1
Semper Fatalis: I want to kill all of you.
1
1
Semper Vogon: What else is new Fatalis, you always want to kill everyone.
Semper Fatalis: Can I start with that faggot Vogon?
Nuthin: No one is killing anyone in here, besides, I dont think you quite understand exactly what that would do…
1
Semper Ebrius: Guinness is delicious, and didnt we just have St. Patty's Day or something? Why cant we do a green irish blog?
1
Nuthin: We are not Irish. Hell, we didnt even know it was St. Patrick's day until the day after, we basically missed it.
Semper Ebrius: Irish I were dfrunk
1
Semper Salax: How about a blog about a Rule 34 on Palin? I wanna get some of that action…
1
1
1
Nuthin: You need to spend less time on 4chan Sal, there are no real nudes of Sarah Palin.
1
1
Semper Salax: Well there should be.
1
Semper Manic: I like woodpeckers.
1
1
Nuthin: I'm very happy for you Manic.
Semper Manic: You know, those big ones, those articulated woodpeckers
Nuthin: did you say articulated
Semper Manic: I meant articulate
Nuthin: huh
Semper Manic: no I mean reticulated
Nuthin: wtf are you talking about
Nuthin: do you mean piliated woodpeckers?
Semper Manic: ……
Nuthin: Can you hear me?
Semper Manic: What?
Nuthin: nevermind
Semper Manic: Yes.
Nuthin: Moving on…
1
Semper Fatalis: Can we at least kill something before this blog is over?
1
1
Semper Vogon: I watched the cat eat a mouse this morning, it was kinda gross.
Semper Fatalis: How about you let me feed the cat to Titus
1
Nuthin: I dont think our children would enjoy watching THEIR cat eaten by OUR Bulldog.
1
1
Semper Fatalis: No one said we would let them watch, you sicko.
Nuthin: How we gonna hide that smart ass?
Semper Fatalis: We could do it on our lunch hour while they are at school.
Nuthin: And who gets to explain how….you know what, nevermind…Let me be very clear about this, WE ARE NOT FEEDING THE CAT TO TITUS. PERIOD.
1
Semper Salax: Hey, theres a fetish for ya. Period.
1
1
ALL: NO!!
1
Semper Padre: We could do a blog on family vacations?
1
1
Nuthin: How exciting….
Semper Ebrius: Best drunken pranks, like that time we crashed that car and lied to the italian police and stole a bicycle.
Nuthin: How was that a prank? and I dont even remember most of that story. Bicycle? what bicycle?
Semper Ebrius: How about that time we puked our guts out just before midnight on new years eve, and when we came back in the building the countdown was at 5…4…3 and then this complete stranger sasquatch of a hefty young lass got a nasty surprise when she stuck her tongue down our throat for a new years kiss.
Nuthin: well there you go, what a good story. Now add about a thousand or so more words, a happy ending, and an ACTUAL POINT and you have a great blog.
1
Semper Salax: I like happy endings!
1
1
Semper Fatalis: How about that time where I bounced this guys head off the bowl of a toilet a few times, then squeezed so hard choking him that I shit my own pants.
Nuthin: That wasnt even us, that was our cousin Joe, we were there, but thankfully no one saw us bounce our guys head off the stone fireplace across from the bar, so the cops only arrested Joe, we drove home mildly impaired.
Semper Manic: I like Milk, like from a cow though, not from a hamster or anything weird like that.
1
Semper Vogon: Roses are red, Violets are blue, sugar is sweet, and so are you.
1
1
Nuthin: The roses have wilted, the violets are dead, the sugar bowls empty, and so is your head.
Nuthin: You know what, I'm done trying to coax more than two sentences outta you worthless fucks. I quit. You each write your own blog and submit it directly to Buck himself, I aint signin off on shit. You wanna get all weird n shit, go right ahead. Knock yourselves out, I aint putting my name on none of it.
1
Semper Salax: So we got nuthin then.
Nuthin: basically, yes
Semper Salax: well then, lets go with that.
Nuthin: deal
Thanks for reading, and stay safe…its a dangerous werld out there!
-Nuthin
Semper ubi sub ubi
19
So while Buck is busy concentrating on self-abuse with new-found technophilic lust for all things Droid, I thought I would take this opportunity to share with you my recently discovered insight on aging, broccoli flatulence, and health foods in general.
–
To start, I am no mere wisp of a man.
–

–
My physique could better be described as 'robust'.
–
I am neither lamenting nor bragging, just speaking plainly.
–
I do not enjoy vegetables. I am a carnivore. (insert apologies to Jersey here)
–
–
I mean really, what is the point of salad? The only way it tastes good is when you dump all the creamy, oily, crunchy, bacony crap all over the top of it to add enough flavor to make it palatable, at which point it has turned the corner of counterproductive and straight into less healthy for you than your typical bacon cheeseburger, which is much more satisfying.
–
And really, what are we buying here with all this low-fat, low-carb, no-taste, aspertame tainted shit flavored garbage?
–
Longevity?
–
Ok fine, longer life. YAY!
–
…oh wait.
–
We aren't adding years to 'beginning' are we…where we could play all day long in the sweaty blissful ignorance of the child.
–
Nor are we adding time to the exploringly playful teenage years where new experiences, potential for fun and mischief, and chances at fulfilling the promises of a mis-spent youth are around every corner, with little or no major consequence (there are always exceptions, but you get the point, and I digress).
–
How about added time to the period commonly thought of as our 'prime', early 20's to early 30's?
–
No?
–
No added years there either.
–
Not even so much as an extra minute added to the time where us men have allotted segments set aside for our mid-life crisis red convertable sports car diversions to avoid time spent with our women while they suffer through their own version of mid-life crisis, aka Mental Pause.
–
(Ladies….feel free to lambaste me in the comment section for my typically male insensitivities.)
–
It is interesting how those two times seem to coincide…
–
So all this healthy eating has only one place left to add time doesnt it….yeah….the end.
–
The time we are all dreading anyway. The time where our bones creak, our mind wanders, and we have to ask perfect strangers to wipe our asses. The time where we can no longer earn a wage nor get out and enjoy the things we have worked so hard for and have lived longer to see.
–
What the fuck is the point?
–
I get to live longer so I can experience the joy that is alzheimers?, rather than taste the fruits of my labor when they are ripe for the plucking?
–
I get to spend my old and decrepit years wasting away in a nursing home, no family to visit me, all my friends having died plesantly young, eating tastless food I cant chew, rolling around in my wheelchair because my joints hurt so bad its no fun to walk?
–
no sex cause I cant make " 'lil jimmy " stand at attention long enough to spit, and the wrinkly old bags around me cant be folded in half anymore without popping a hip out of joint…although dentures means 'smoothies'…so there is that…
–
–
sounds fucking delightful doesnt it…
–
I think we are being brainwashed by the Government, Aliens, Oprah, and the IOC into thinking that good food makes us live longer so we can live long enough to be sucked dry by 'The Man' in our waning years.
–
…I cant say I have put much thought into this theory yet, as it developed earlier this morning on the shitter….but give it time…I will work out all the kinks and you will see…
–
Although there is the lighthearted side of slowly losing ones mind.
–
There are the obvious benefits of say…being able to sleep in church without anyone so much as batting an eye.
–
The 11% senior citizens discounts at the local hardware store.
–
The free roll of toilet paper on Seniors Wednesday at the grocery.
–
The double bonus of both not having to shovel your driveway, AND laying a guilt trip on your grandchildren to do it for "your old grandad".
–
I was out on an appointment tracking down wires, testing data connections and otherwise generally lurking around in the building of an assisted living complex, when I needed to get into a tenants room to test her interwebs jack connection.
–
I knocked on the door and identified myself as being a repairman from the local computer company and I heard her scurry to the door, yell "whats the password" and try to stifle an uncontrollable giggle from just behind the door.
–
I yelled "Peanuts" and heard her giggle some more before she opened the door to let me in.
–
She was tickled pink, and I got a smile out of the deal…although on the down side I had to indroduce myself like 12 times within the next 20 minutes, and hear, "…well my names Marge, how very nice to meet you young man. My, arent you handsome."
–
The worst part of the deal….she had no cookies. Apparently she had had her "stove priviledges" suspended after a minor incident involving a post roast, some smoke, and a "teensy little 'ol fire".
–
–
I agreed with her, it was very unfair.
–
Sucks to be me I guess.
–
I am making a point here, getting old sucks, I dont think anyone will disagree with that, not the old, not the young.
–
Sure there are some advantages and some situations where getting old is a blessing, just like there is some people that can smoke for 60 years and get neither cancer nor emphysema, but its certainly the exception, not the rule, and mostly it just sucks.
–
Why are we forcing ourselves to do things we dislike now, so we can live longer into the years that are the least pleasant?
–
I am taking a stand. I am making a "Shortest Month of the Year" resolution.
–
–
For the entire rest of this month of Feb. I am taking a vow.
–
–
A vow to eat all things bacon, chocolate, and noodley.
–
–
I will have Mt. Dew over my sugar frosted flakes every morning, drink Whole milk, and have 6 sunny-side-up eggs with buttered toast…for every morning meal.
–
–
I am going to restrict the color of my food during lunch to only those things that come in shades of "golden brown deep fried goodness".
–
–
For supper…I am going to eat huge quantities of barely cooked meat, covered in creamy rich sauces, saddled with  baked potatoes slathered with sour-cream, chives, and crumbled bits of bacon.
–
–
I am going to have chocolate syrup covered popcorn over my ice cream for a snack sometime around 10pm, although I will brush my teeth before I go to bed because there is no excuse for a dirty mouth.
–
–
I may have a few extra lbs to deal with in the end, but that is the price I am willing to pay for not living long enough to catch Alzheimers from some contagious old person.
–
–
I think we should all stand together and take a vow to validate the current world view of our country as gluttonous greedy overweight pompous bastards who drive huge cars and wear huge pants!
–
Are you with me people!!!!
–
ALL TOGETHER NOW…..EAT DRINK AND BE MERRY, FUCK TOMORROW!!!!!
–
–
–
…well at least for the rest of February anyway
–
–
Thanks for reading…and please tip your beertenders…
–
-Nuthin
–
-Semper Fatass
22
Mornin', sports fans!
… tis I, is your benevolent and goodly overlord.
How is everybody this fine day?
If you, like me, are in the mid-Atlantic … all I am going to say is "Wow!"
Okay, I honestly intended for "Wow!" to be all I was going to say, but WOW WOW WOW WOW WOW!!!! …
and I understand that the past week or more has been completely focused on these back–to-back blizzards, but this just insane! And no, these are not just large, heavy snowfall events. This is two back-to-back, bonifide blizzards!
The National Weather Service issued a bulletin about an hour ago telling people that they ARE to stay off of the roads. The city of Baltimore has initiated Phase III of their snow plan … only emergency vehicles are allowed on the roads. Period. Intense snow fall and winds of 40 miles per hour make for some rather hideous conditions.
My ex wife recently tossed a friendly jab my way, telling me to suck it up because they get this all the time up in Maine. While I will agree that these types of intense wintertime weather events are more common up there, I dare say that they are not quite accustomed to this!
I could be wrong …
but let's just move along …
.
Before we do get about the business of moving along … the following was — and I am CRAPPIN' YOU NEGATIVE … one of the paragraphs (verbatim) from the National Weather Service alert that was issued for our region at 11:34am:
"People are encouraged not to panic… but to simply stay inside… enjoy your favorite indoor activities… and ride this storm out… the hazardous conditions will be improving later this evening."
OH YEAH!
You know what the means, don't you?
Tis time to actually write instead just pumping out another one of those finished-in-fifteen-minutes picto-blogs!
But first, I would like to have a little chitchat with some of you about blog etiquette.
Or, not to put too fine a point on it: blog reading etiquette.
Before we get too deeply entrenched in that subject, though, I want to start off by saying THANK YOU!
If you have visited us more than once, I double that order of gratitude.
If you are amongst those who regularly visit this place, I am sincerely honored that you've been entertained enough to want to come back with any frequency.
Good stuff, I tell ya!
As you've probably noticed, I am not the only one who blogs here. At present, the regular writing staff is a tad Spartan, to say the very least.
Before the council of writers gets too large and the silly insecurities of  the "what about me?" sort enter the picture …
I want to give some really huge props to our "stunt blogger", Nuthin!
We are fortunate that such a gifted and entertainingly clever person has chosen to park some of his linguistic creations on this dark, humble, virtually uncharted little corner of "teh interwebs."
I still don't have actual profile pages for the site Authors and Admins (nor for the Council of Doom, but that will come in time)
.
So, where were we?
A big ol' butt load of thanks to our readers!
Here, how about I make you a steak?
Yummy!
.
Okay, back to the subject of blog etiquette …
We, as "authors", do what we do because we enjoy it.
Plain and simple.
It is fun to do this blogging stuff and I have to believe that I am laughing infinitely harder than most any of you are. I write stuff that is fun to come back and read later. Due to the completely spontaneous, "stream of consciousness" nature of the vast majority of my blogging, I hardly remember many of the details of what I've written, so this is really an entertaining process for me.
Sadly, it is painfully obvious – sometimes unbearably so – that I do not proof-read what I post, no less go through any sort of editorial process.
Something I like to refer to as …
"Projectile Blogging."
But my point being, it's when I come back days or weeks later that I'll finally do proof reading (if any) and sometimes a little editorial work. Although, I must say that when it comes to my true projectile blogging posts, I really don't like doing much in the way of editorializing my original process. I mean, hey … if it struck me as important enough to blurt it out, then it very well has a purpose — however miniscule — and is hopefully resolved by the end of the story.
And even that's not intentional most of the time … which is what make projectile blogging so daggone fun. At least for me.
But anyhow … I guess you've probably noticed that I really like those "so last decade" smilies, huh?
Dude, they taste just like chicken!!!
.
I really need to contain my A.D.D.-like tendencies today, sorry …
. . .
On to matters of Blogging Etiquette …
B.E. 101
(if you will)
As detailed on my "FOK!" page, the intent here is not to point the Finger of Authority at you and make you feel scolded. That would be patronizing, and nobody wants that!
Except you, so shut it!
My point being — and I understand the whole matter of feeling like a finger is being pointed makes that a poor choice of words — we really get a big charge out of interacting with our beloved audience. Especially those of you who choose to Register as member-residents of the Wonderful World of Buck!
I really should stifle this urge to channel the spirit of Billy Haze …
he's the parallel universe alter of Billy Mays, and he dies in that universe too …
You really don't want Billy Haze storming in here like a cocaine-induced manic jackhammer and start pummeling you about the virtues of becoming a registered user on this site. Just feel free to register. It makes commenting and interacting more enjoyable … and it very well may be the start of a quest that results in you getting sucked into this whole cerebral black hole known as blog writing!
If you like to tell stories or make people laugh in a clever, well delivered  manner, blogging really is worthy of your attention.
And when that day comes, you too will understand this whole aspect of interaction.
Even heckling and a throwing of the proverbial elbow of jest is warmly welcomed.
Without getting all geeky and checking on server logs, we really have absolutely no clue whether anyone has stopped by. Now … should you happen upon a blog post that's really a train wreck of failure, then perhaps the silence that only a cricket could wish for would be in order.
The point is, have a heart, leave a comment if you make it all the way to the end of a blog.
Got it?
Good.
Don't make me break out the anal invading hyenas from hell …
I am dead serious, they are some bad mamma-jammas!
(and, as it turns out, this species — Hyena Semper-sodomus — is actually a marsupial. So much for that whole idea that the marsupial is a calm, bashful and predominately harmless species. The Tazmanian Devil, for example …
About the only thing worse that the hyena semper-sodomus … even worse than the Tasmanian Devil — especially an angry she-devil, doubly so when mating season approaches — is an animal thought to be extinct for centuries now.
And it is no matter of coincidence that I am making mention of marsupials here …
Behold …
the Snow Devil!

.
I know, I know … it bears a STRIKING resemblance to the Snow Possum.
That's only fitting when ya think about it, though. I mean, dude … they're both marsupials! Much in the same way that certain of the King snake species can bear a striking resemblance to teh Coral snake, the devil's in the details.

But we're getting a little bit off track here, aren't we?
Our job as writers is to write … and due to the fact that there's no binding obligation or moral imperative that we do so, it's not a job whatsoever; but I've already covered the whole "we do it for the joy of blogging" nonsense.
We don't get paid … I have absolutely zero aspirations of every hosting any click-thru ads to raise a little cash …
even if it is for a worthy cause … say, I dunno … alcohol research!
This is a purely casual endeavor done for the love of the LULZ …

.
We do it for our own ROR …

All we ask is that you quit being such a selfish, miserly, tightfisted, lurker and show our writers a little love, will ya?
Okay, let's just pretend that you're here for no other reason than morbid curiosity …
Unlike real life … where, if you happen to stumble across the police investigating a horrid, unthinkable crime scene … here, in BucksWorld, you're actually EXPECTED to find a way to get into the background of whatever the forensic photographer is photographing and ham it up with a big grin or funny face.
SRSLY!
(go ahead, click on the image … you should be familiar with the routine by now … Click to Enlarge! huhu … that's what
she
said!!
Anyhow … even IF you're here out of sheer morbid curiosity, you're still expected to make your presence known.
Otherwise … it's considered lurking …
and quite frankly …

… and it's just downright creepy!

Okay, I think that about covers it for today, kiddies.
In case you somehow missed it … and this is the abbreviated version for those even lowlier souls: the folks that simply scroll through to see the pics.
.
STOP RIGHT THERE!

If you're the type that just scrolls through for the pics, this is an important announcement for you:
Leave a comment!
SRSLY!
.
And that, my friends, is one ballsy white boy!!!!!!
… now scroll on down and leave a comment …
25
Good day to you kind citizens of Bucks Werld, and a happy February to all!
It has been awhile since I have had anything worth writing about, and I doubt today will be any different but I will try anyway.
The nerd herd here at the office has unexplainably lost all of its pretty womanly talent (receptionists) and now us dorks are manning the front office until they return, and its glaringly obvious why we don't do this job every day, we suck at it.
We have no people skills, we have failed to adapt in socially acceptable ways to everyday situations, which is why most of us are slightly weird, mentally gangly loser's anydamnway.
It's a good thing that this company's public representation is the nice ladies that are the face of the front office, otherwise we would go bankrupt.
–
We tend to turn the music up loud and throw things at each other while screaming expletives and making crude drawings on the white boards until we can find some poor loser fellow employee whose left their computer unlocked so we can put a semi-nude picture of David Hasselhoff holding/molesting puppies as their desktop background.
(thats just wrong I dont care who you are)
—
I've seen zoo chimpanzees show more decorum while flinging poo at each other.
—-
Speaking of poo flinging, and animals in general…

This whole recent "snow animals" direction that Buck has taken up with seems to reside a little too close to beastiality than I would prefer to live, so I am not going to comment on his: whale/pig/cow/glove/elephant/shark/fist/kangaroo/frog, menagerie of unhealthy obsessional delusions for the moment, but I do reserve the right to hold judgment at a later date. (at which time I may enlist the help of our fair and unbiased readership to attempt to hold him accountable for the "things that have been seen, cannot be UNseen." effect. )
Moving on before I incur the wrath of Buck…
—————————————————————————————-
Well Christmas came and went, New Years came and went, hell even janularry came and went and now 1/12th of 2KX is gone and I have nothing to show for it other than a few dozen empty 6 pack containers of Guinness and a pair of skis that are one full ski short of being a pair of skis.

I still have both the poles though, so while I'm screaming down the hill on one ski, throwing empty bottles of beer at the little ski-monkey kids, I can whack the ones I miss with my poles.
Skiing is fun as hell dude.
Living in the great white north as I do, there are two things we have no shortage of here…snow and beer. ( I will not include fat women in this short list because that would be more than two things, and I typed the word two already so I can't go back and change it now)
The snow is awesome cause it make the lakes freeze solid so we can fish without our boats sinking (we have old boats). This is known as "drunken frozen lake fishing", and we tow the boats right out on the lake and drill holes through the ice and drunkenly try to cast our lures into the holes we drilled.
–
We never catch more than a buzz, but we sure have fun doing it. When we are drunk enough we pull the boats back off the lake and drag them through the city streets (after lighting them afire of course).
(I heart Guinness)
(our boat was slightly smaller than this, though the fire just just as spectacular, expecially at about 45mph)
I suppose this is why our boats normally sink during the summer, "drunken unfrozen lake fishing", season (I understand they have this new thing out for putting under your boat, it has wheels or something, weird). This might explain why our relationship with the local authorities might be a little strained (it's usually their boats we borrow while they are out driving their little cop cars around, ok that was only one time, long memories those cops).
(true story…)( tank de laud for the statue of limitations, and the Marine Corps taking me away from the area for awhile)
The only down side is when we are done drinking we have to pick up all the empty beer bottles and cans cause normally in the summer we can just fillem with water and watch em sink to the bottom of the lake, but frozen water don't sink, so our beer cans float on top of the ice and we have to pick em up and put em in the back of the neighbors truck.
Believe it or not this is a better method of fishing than our former and more explosive method.
(better being relative of course)
——————————————————————–
I have nearly worn out my Christmas gift of BuckyBalls making intricate shapes and spheres and helixical pointless do-dads. My coworkers have also taken a liking to my balls and ask to play with them quite often. The down side to this is that I work with mostly men, and the girls I DO work with seem disinterested. So I don't share them as often as I would like.
————————————————————————————–
Meow its time for a signature section of mine called…
Nuthin's Vogon Poetry Corner
Today I would like to share with you a little gem that I havn't written yet, so I had better start.
…and here it is!!
—
Senility is Bliss

roses are red

tacos are pink

I saw my gran nekkid

now I need a shrink

–

Water is blue

fire is red

I dont understand

how grandpas not dead

–

mustard is yellow

lettuce is green

you cannot unsee

what has been seen

–

Salt is to sprinkle

pepper to grind

I bet grandpas thankful

hes almost blind

–

Gran struts proud nekkid

says shes in her prime

Gran doesnt care

shes 99
–
**takes deep bow**
—-
OK people I has to go, work is over and it's time for supper, and I shant be late.
Talk at cha later!
*
Thanks!
Nuthin
-Semper Ebrius
10
—
My fiend Buck and I were chatting the other day and he reminded me to something I had forgotten about. Middle school humor. I love pointless humor. Its so fulfilling and nonsensical and well…pointless that its charming in its own way.
I have a child currently in the throws of middle school and so I decided that maybe ol` dad needed to re-edumicate himself to the glory that is absurdity for absurdities sake.
In my studies I was reminded of an old standby and it seems that I had forgotten it almost entirely. So I present to you my re-introduction and interpretation of said gem.
—
M R DUCKS (apparently one small verbally challenged child is pointing out to another small verbally challenged child the presence of waterfowl)
M R KNOT (I think here is where the disagreement begins, one child does not believe the others observation and is almost assuredly nearly blind as well)
O S A R (the first child is adamant about said waterfowl)
C M WANGS (to prove his point the first child makes the second child aware of the presence of the waterfowls ability to fly)
L I B (the second child is astonished and stands corrected)
M R DUCKS (finally after much arguing and deliberation the second child affirms that indeed those are waterfowl, although I have my doubts as to his ability to function normally with his vision problem)
—
Here is another example of a conversation between two small verbally, and I think possibly mentally, challenged children, this time with literal interpretation.
—
M R MICE (Them are mice)
M R KNOT (Them are not)
O S A R (Oh yes they are)
C M E D B D FEET (See them itty bitty feet)
Y I B (Why I'll be)
—
Some other examples I have come across, which I will not interpret for obvious reasons:
—
M R NAKES
M R NOT
O S A R
C M E D B D EYES
L I B
M R NAKES
—
M R PUPPIES
M R NOT
O S A R
C M P N (although im not sure why the act of bladder evacuation assures that they are indeed puppies, last I checked most mammals do this)
L I B
M R PUPPIES
—
And my favorite two for last:
—
M R FARMERS
M R NOT
O S A R
C M M T POCKETS
L I B
M R FARMERS
—
M R Edumakashun Majers
M R Knot
O S A R, C M M T Pockets?
L I B
M R Edumakashun Majers
—
Some of these have wonderful names and titles like:
—
Official LSU admittance test
and
12th Grade Reading Test
State of Arkansas
(Passage of this Test Mandatory for Diploma)
—
So in conclusion middle school humor can be very enlightening, even entertaining, in its own special little way.
—
On to other things…
—
I am about to rant so if you would like to skip this in lieu of more cheerful fodder, please feel free to look for the "Rant begins/ends here:" indicators and pick up nearer the bottom.
—
Rant begins here:
Well ladies and germs, its that time of year again where we get to bastardize one of the most bestest holidays in the land, yes kiddies I am speaking of the tragedy that has become Christmas. Now don't get me wrong, I heart Christmas, but I hate to see what it has become. I cant complain too much because I am part of the problem. I don't enjoy the commercialized capitalistic money-whoring cess pool of advertising and greed that we have twisted Christmas into, but facing facts, I'm helping feed this monster just like the rest of us. Problem is that despite my feelings on the subject, I cant just give up on what has become closer to the rule rather than the exception, especially in our country. If I had my way I would choose to do things different, but it effects more than just me. It means that my kids would be disappointed, my brothers, their wives, nieces and nephews, in-laws, my parents, everyone I am close to would get nothing or very little from me, and the reality is that I like seeing their smiling faces. I enjoy giving, which is why its so easy to fall into this money-pit of excessive spending and outrageous expectations. My in-laws are spending between 500 and 600 PER GRANDCHILD. I find that simply amazing. They have 6 grandchildren, that's 3000 to 3600 for all you math wizards out there. They are self-employed and ride the verge between the national standards for bottom middle class and poverty. My Significent Other (Best Friend) gets sick to her stomach when she thinks about it, this year she even confronted her mother about it. She wanted to make it plain to her mother that her grandchildren would love her no matter what they got for Christmas, her response, " …but they will love me more if I spend more."

Wtf is that?

What kind of message is that sending our children? Maybe they are too young, or oblivious to get it? Maybe they don't care, well for sure they don't care, look at what they are getting. Maybe even if they knew they wouldn't care? Maybe no one cares? I know I do. Maybe you don't care? (Its ok, you don't have to share my ideals, I still like you. Well most of you.)

We try to live modestly, but we still spend maybe 200 to 250 dollars per child for gifts, maybe this is high, but my feeling is that it likely is low. Some years we have spent more, some less. Most often it is whatever is within our means. Some years I have been layed-off. Some years my BF hasn't had a job due to taking time off to raise our family. Things happen and some years are lean and some fat. (currently I am fat, while my wallet is lean, but that's a different subject alltogether)

As I understand it, the point is to have a point, so here is mine:

Giving is good, so maybe we shouldn't give up on Christmas entirely. Excessiveness is bad, even excessive giving, when it leads to setting a poor example, or stretching oneself beyond ones means (going ridiculously in to debt to give what is not needed). The point is, without getting all religious on your asses, is to remember the reason behind the gift that is Christmas.

Ok, enough of a rant for me.
Rant ends here:
—

—
Here is a little collection of Christmas words, sayings and phrases I have been accumulating this season to share with you good folks. Enjoy! …and much thanks to Urban Dictionaries' word of the day emails.
—
December 19: Cashmas
The primary holiday celebrated in capitalist cultures. Generally observed around the winter solstice, Cashmas is a celebration of materialism in which its celebrants attempt to flatter or impress relatives, friends, and acquaintances with the extent of their purchasing power. (The "power to get".) Cashmas co-opts signs, symbols, and sympathies from other religious holidays of the winter season to mask its foundation of conspicuous consumption. In the United States, where the holiday is most actively observed, Cashmas traditionally begins on "Black Friday", that is, the day following Thanksgiving Thursday in November. Holiday observations traditionally end on January 2nd, but may arguably be said to extend through "Super Bowl Sunday" of professional American football. This event can occur as late as the month of February.
Also "$mas".
Jodi spent 14 hours at the mall in celebration of Cashmas.
—
December 20: Christmasochist
Someone who continues to subject themselves to Christmas activities — Secret Santa, carolling, etc. — despite feeling painfully awkward at the event.
Ryan's uncomfortable laughter at the Secret Santa Pot Luck indicated he was an Christmasochist.
—
December 21: Gift Parasite
A person who adds their name to a gift tag in order to claim partial credit for giving the gift.
I'm totally broke so I had to be a gift parasite and sign on that present you're giving Grandma.
—
December 22: santaclaustrophobia
fear of too many santa clauses
He felt a bout of santaclaustrophobia coming upon him as the holiday season approached.
—
December 23: Christmas Eve Eve
The day before Christmas Eve, 2 days before Christmas.
Stay away from the malls on Christmas Eve Eve.
Today is Christmas Eve Eve.
—
December 24: gift crack
The gap in wrapping paper or uncovered portion of a gift usually found on the bottom of the box. May result from the gift wrapper running out of paper or cutting gift wrap too small to cover the entire package.
Bryan figured out what his present was because the gift crack exposed the picture on the box.
—
…and my fav
—
ChristmaHanuKwanzaakah
The Ultimate Winter Fusion Holiday
It's Christmas Hanukkah and Kwanzaa all rolled into one
This Holiday is useful for a family of many different religions (I can't imagine why but this is a good contingency plan for those of you not married, engaged, or met your significant other yet) It lasts 16 days, One for Christmas, Eight for Hanukkah, and Six for Kwanzaa
"I hope I get that book I wanted for Christmas, what did you ask for?"
"I exactly celebrate Christmas, I celebrate ChristmaHanuKwanzaakah. It's 16 days long!"
—
Or this version…
—
Christmahannukwanzaadon
Encompasses Christmas, Hannukah, Kwanzaa, and Ramadon all in one big merry holiday. An alternative to the ever-popular Festivus for the Rest of Us from Seinfeld.
"Merry Christmahannukwanzaadon and a happy new year!" said Santa Claus.
—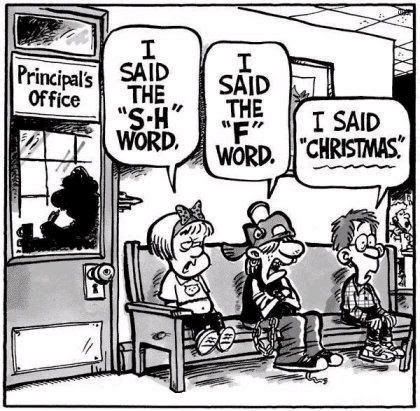 Disclaimer:

Please accept with no obligation, implied or implicit, our best wishes for an environmentally conscious, socially responsible, low stress, non addictive, gender neutral, celebration of the winter solstice holiday, practiced within the most enjoyable traditions of the religious persuasion of your choice, or secular practices of your choice, with respect for the religious/secular persuasions and/or traditions of others, or their choice not to practice religious or secular traditions at all. We also wish you a fiscally successful, personally fulfilling, and medically uncomplicated recognition of the onset of the generally accepted calendar year 2010, but not without due respect for the calendars of choice of other cultures whose contributions to society have helped make America great (not to imply that America is necessarily greater than any other country or is the only "AMERICA" in the western hemisphere), and without regard to the race, creed, color, age, physical ability, religious faith, or sexual preference of the wishee.

By accepting this greeting, you are accepting these terms:

This greeting is subject to clarification or withdrawal. It is freely transferable with no alteration to the original greeting. It implies no promise by the wisher to actually implement any of the wishes for her/himself or others, and is void where prohibited by law, and is revocable at the sole discretion of the wisher.

This wish is warranted to perform as expected within the usual application of good tidings for a period of one year, or until the issuance of a subsequent holiday greeting, whichever comes first, and warranty is limited to replacement of this wish or issuance of a new wish at the sole discretion of the wisher.

—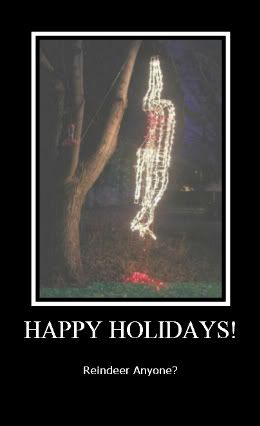 I hope you all have a very Merry Christmas!
-Nuthin
Semper Ubi Sub Ubi
18
Hello kiddies and cattle and welcome to another installment of, " The Deepness that is Nuthinness "
This morning I surfed on over to the Jack Handy website for my daily dose of ingrown inspirational insight and intellectual intelligence where I stumbled upon this gem…

"When I saw the old bum pushing his grocery cart down the street at first I felt sorry for him, but then when I saw what was in his cart I thought, well no wonder your a bum look at the dumb things you bought."


"…that Jack handy…hes an 'effin genius."

-Nuthin

Man…thats deep. Which reminds me of another deeply philosophical question that has been plaugeing mankind for millions of years…

I think this settles it.
Its been getting colder here the last few days, highs in the low thirties, and the temperature in my office/old decrepit garage (long story) where my desk and headquarters is positioned strategically to be headquartered @ and headed-up also known as "AKA" "HQ", hasn't gotten much above 50 degrees.
Which kinda makes my head numb. All damn day long. Yesterday (like you care) I wore insulated pants and 3 shirts and kept my jacket and hat on all morning long and by lunch all I could hear above the music (Tool) streaming from Pandora was the chattering of my teeth.
So when I took my HALF HOUR lunch (12:00 NOON to something near 1:30ish), I came back with an overly large electric heater to warm the place up a smidge. Which made playing Battlefield Hero's all afternoon until we quit around 4:30, much more enjoyable than that mornings session spent playing Tiger Woods golf, and surfing the daily regemin of internet time wasting sites, i.e. funny news sites, bucksworld, monopoly city streets, bucksworld, boygeniusreport, weird news sites, bucksworld, ebay, busted tees…you get the idea.
Much thanks to the people over at Busted Tees, without whose help I would have never been able to steal all their cool t-shirt designs, I am going to kinda randomly sprinkle a few of my favorites from that site here and there throughout…well, everywhere.

speaking of cold…

absolute zero…although I prefer to use the Kelvin scale, which is what all the threemommeters in my house are calibrated too.
So all this cold has got me hankerin' a bit for the warmer climates… and all the beautiful sun-bunnies that go along with those places.
isnt she fiiiiine!
I think the kids face says it all…and how about her bikini top…I have to say, I am impressed, a little pukey, but impressed nonetheless.
I worried about the kid for awhile, worried he might have been traumatized by his grandmother during those shared lazy days spent whiling away the sunlit hours at the beach, but I found this picture of him all grow'd up and as yuou can tell from this pic he turned out juuuuust fine.
A well adjusted member of society raising a beautiful family.
I dont suppose I have much room to talk though, this is usually how I look by the end of the summer…minus the radiant shine of pure intellectual prowess emblazoned upon his visage of course.
So the cold and snow here is reminding me that its that time of year where holiday shopping is beginning to  consume everything and I want you people to remember that there comes a time when we all need to just slow down and refocus on what really matters. We sometimes need to readjust our thinking, recalibrate what the media has convinced us to shift our priorities towards, and not forget that the true meaning of Christmas is Santa Claus. and presents. and mememe moremoremore. Lets focus people, I will be personally sending each of you my list and I want all of you to pick five things and mail them to me as soon as possible, the price limit is $200 (nothing below).

While your out perusing the malls and bigboxstores of the world searching for everything on my list I want you all to remember to enjoy yourselves. Have a wondferful time hunting down gifts for me and dont forget…

truth be told all I really want for Christmas this year is this

yeah I know it, im a goofy computer nerd at heart, but these things are really effin cool. Dont believe me, go see for yourself, www.getbuckyballs.com, if that video doesnt make you want some of these then your more normal than I thought and you dont belong here. Leave immediately.
anywho…thats all for now, have a wonderful day, oh shit…I almost forgot, I have one more thing…
Buck has kindly inspired me to share some more of my poetry with you all, and I dont want to disappoint him so here goes!!!
Nuthin's Vogon Poetry Corner
by Nuthin
Billy's Itch
there once was a man from missouri
whose arms were both long and furry
Bills ass went a twitchin
so Bill got to itchin
and his aching soon turned to worry
for once was girl from Kentucky
and Billy thought he got lucky
but soon he would see
when it hurt to pee
that fuckin aint always so ducky
Bills arm was long as a snake
and the next time his junk got to ache
he'd reach down below
and knead his own dough
and avoid the Kentucky mistake
so now im done…
my final words of wisdom for today…
Thanks
–
Nuthin
-Semper Ebrius
9
Good morning and hello to all my fellow residents of "Teh Wonderful World of Buck"
Let me introduce myself: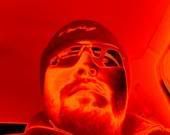 Hi, my name is Nuthin.
all my friends call me Nuthin.
but you can call me Nuthin.
I won a "contest" here at "Bucks World" and "Buck" was kind enough to grant me "Contributorship Status" on this here "finer-n-frogs hair" website, so I resolved to "contribute".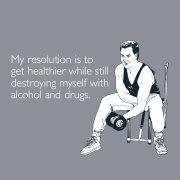 Some of you may know me from my brief, albeit busy, stint on the social networking site know as 'teh Spazz'.
I am no longer there for legal reasons…and we'll leave it at that.

I suffer from Profanitism: the excessive and habitual use of profanity. Which means I swear alot (I have promised to restrain myself a bit, but expect the occasionl fcuk bomb here and there.) I credit my beloved Marine Corps for an almost unparalled mastery of the issuance of all things profane.
Semper Fi
I prefer the color red. (in case you hadn't noticed)
I learned something today, and so should you, and to prove this point…
Here is my contribution for teh day to the furtherance of your vocabulary.
Grawlixes:
Typographical symbols standing for profanities, which appear in dialogue balloons in the place of actual dialogue. (dont axe me how thats pronounced though, I know not)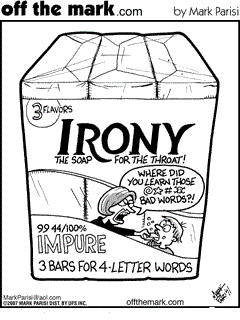 I am a technophile. Although this does NOT mean I am especially versed in all things computer, unlike our fiend Buck.
I intentionally typo.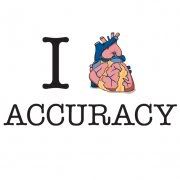 I have an Olde English Bulldog puppy (4 months old) who's full name is "Reglus Titus Tiro". He prefers "Titus" for short.
I really like latin for some reason, and Tibet.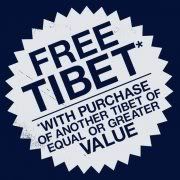 I like long walks in the rain, poetry, and calling cadence.
Speaking of Poetry…I have one I'd like to share with you.
Its one I wrote awhile back and its short enough to hold the attention span of the average hominid, yet profound enough to occupy ones mind for longer than one would prefer it be occupied. (profound to be read confusing)
Here goes…
Ode to a Realist's Water Glass
o cylindrical containerized fluidity
how dost thou quench mine thirst in vain
foer but hither hour comes anon
I greedly lap thy refresherating coolness again
making pale my yellower evacuations
leaded crystal minst vehicle for watery indulgence
I bade thee thithereth me mine thirst be gone
Fore but leaves thine glass half full?
nay, Half empty then this transparent sand?
NEITHER say I. Pessimissim be damned!
Optimism be thou thrown likewise from yonder Dam!
IT IS A GLASS.
IT HAS FCUKING WATER IN IT.
SHUT UP AND DRINK IT.
I am but a humble REALIST drinking poorly
from the richness of my tap.
Thank you…**takes bow**
I am completly imbued with the knowledge of the useless…of which I would like to share.
Here is a prime example, and as an addition to todays vocabulary lesson, here is the Arithmetic lesson for all you interwebs kiddies out there.
Did you know that teh internet weighs approximately  1,096,564,831,978 lbs, or about 1.1 Trillion pounds.
I know this because the internet told me…plus I read this report.
I share a love of all things idiosyncraticly visual as does the aforementioned Bcuk.
I come from a long line of handsome bastards.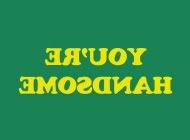 …and I got my, and my brothers their, unofficial nicknames when my father threatened his mother, while we were yet babes, that he was going to name his three children Whatcha, Howya and Nuthin (our last name is "doin" only spelled differently). I dont think she minded actually. Knowing her, she laughed and dared him to do it. From hence forth I became "Nuthin".
This is Howya: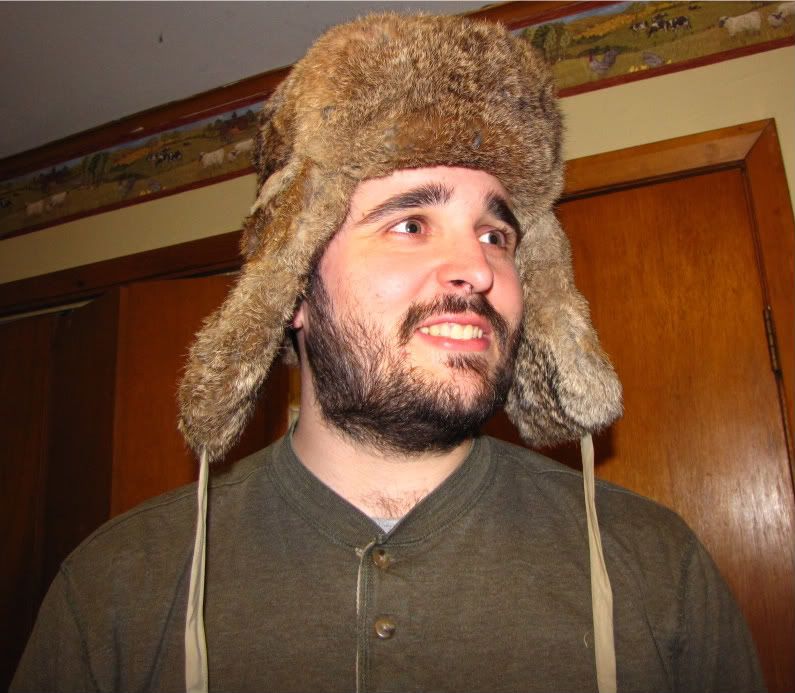 This is Whatcha: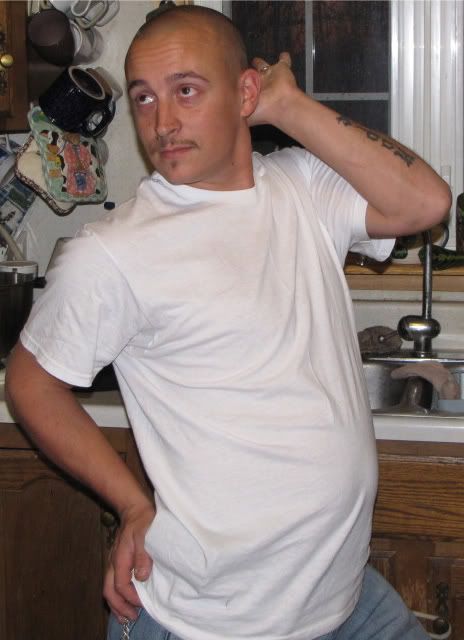 I am Nuthin…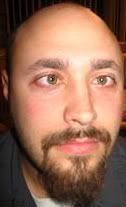 In conclusion, I dont expect to write often, but when I do you will at least know which parts to skip during your daily foray into Bucks World.
Now the homework part of todays lesson:
Do you have a nickname?
In short…why?
-Semper Ebrius